About Us
We are a professional manufacturer and exporter of stuffed toys, plush animals and teddy bears in Taiwan and China. Our factory has been established in 1985, and we have over 20 years experience in these lines of business. Our quality control guarantees superior-quality items from the beginning to the end of the manufacturing process. We offer not only competitive prices with a low minimum quantity (1000 pieces per item) but also prompt delivery (lead-time 30-45 days).

For your information, we have made the collectible mohair bear for Home Shopping Inc. in U.S. and we also have been authorized to make the stuffed toys, which are famous Walt Disney cartoons characters. And we assure you that all of our products comply with all the safety standards of EEC, Japan and U.S. toys safety directive.
In addition, we can also produce any style according to your design. You can just simply advise us the size, material, or send us drawing, picture or sample (if you have them). We'll be glad to offer you our counter-sample and quotation as soon as we receive your requirement.
Please don't hesitate to contact us at all times, if you have any question. We assure you of our best attention to your inquiry.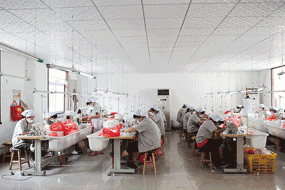 Basic Information
Company Name:

TIEN CHYI INDUSTRIAL COMPANY LIMITED

Business Type:

Exporter, Manufacturer, ODM, OEM, Wholesaler

Year Established:

1985

Capital:

TWD 1,000,001 - 5,000,000

Brand:

BearFamily

Main Product:

Teddy Bear, Plush Toy,Stuffed Toy, Soft Toy Teddy Bear,Stuffed Toys,Plush Animals, Plush Toys, Stuffed Animals, Plush Backpacks, Mobile Phone Holder, Wedding Teddy Bear, Wedding Gifts, Cloth Dolls, Cushion

Main Export Market:

Argentina, Australia, Belgium, Brazil, Canada, Denmark, France, Germany, Hong Kong, Italy, Japan, Mexico, New Zealand, Norway, Poland, Saudi Arabia, Singapore, South Africa, Sweden, Switzerland, Taiwan, United Arab Emirates, United Kingdom, United States
Certification
Company Certification:
Product Certification:
Contact Information
Owner:




Contact Person:



Phone Number:




Fax Number:

+886-2-29536012

Skype ID:

Office Address:

Office Hours:

Monday-Friday : 8:00-19:30

Company Website: